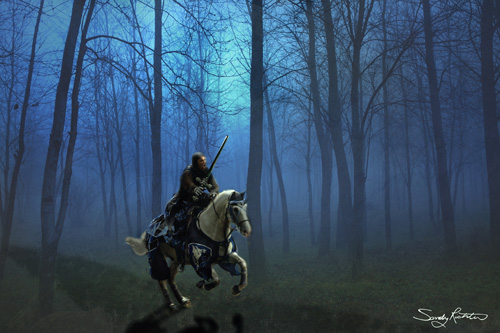 This fine art piece is a digital photo composition in the fantasy genre, depicting a knight riding through the forest at midnight on a quest. Inspired by my father, who wanted me to make him an artwork with a knight riding on a steed, sword in hand, I decided that our knight will be racing against time through a dark woods with only the moonlight to guide him.
To set the dramatic mood of the scene, I chose a dark forest in dark blue hues lit by the moon. There is just enough light shining through the trees to light up the silhouette of our courageous knight so that we may have a glimpse of his determination to fulfilling the task at hand. Where is he going on his quest? Will he make it in time?
You can purchase this artwork on select fine art, fashion and home decor items through my various stores by clicking on the desired store icon below where I've posted my artwork for purchase.
Let me know what you think in the comments below and please share this post if you like it to show your support. Sharing is Caring! Thanks for stopping by! 🙂