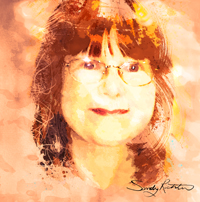 Artist Bio
Sandy Richter Canadian Artist
Sandy Richter is an emerging Canadian digital and traditional mixed media artist and designer whose works has been shown at gallery's in North America and are held in private collections worldwide. She is passionately committed to daydreaming which reflects in the dream like quality of her fantasy, surreal and abstract portraits.
ARTIST STATEMENT
My artwork represents the dream world, a world of fantasy, surreal and mystical. A world where anything is possible! The good, the bad and the ugly. I observe the world to understand others and to better understand myself. My artwork is a product of empathy and compassion I feel for others which inspires me to help others express themselves and tell their story. I'm best able to express these visions by utilizing photo manipulation and digital painting which allows me the greatest creative freedom to communicate my inner fantasy life as well as others who entrust me with their visions to make manifest. I also explore these areas through traditional mixed media as well.
I am very inspired by the work of Brooke Shaden, Jeremy Sutton, Gloria Kagawa and Cindy Grundsten. I am drawn to the romantic impressionist period as well as Art Nouveau influences.
CV Highlights
Sandy Richter (Ontario, Canada)
info@sandyrichter,ca | https://www.sandyrichter.ca
Studied Under:
Gloria Kagawa
Cindy Grundsten
Selected Exhibitions:
2017 Bonnechere Museum, Eganville, CA
2016 Bonnechere Museum, Eganville, CA
2016 Twitter Art Exhibit, NYC, USA
2015 Bonnechere Museum, Eganville, CA
2014 Bonnechere Museum. Eganville, CA
2013 VineArt, Gallery 96, Stratford, CA
Works held in private collections in Canada, the United States, Europe, and Japan.
Save